MBCT Intensive Training & Retreat
Train to facilitate MBCT programs with guidance from Zindel Segal, one of its co-developers. This is the third module of our MBCT Facilitation Certificate Program.

Current treatments for depression provide relief for many people, yet they face significant challenges maintaining the benefits of treatment. This innovative 5-day intensive training and retreat will lead you through the program designed to prevent depressive relapse among people with a history of depression.
Based on the research of Zindel Segal, Mark Williams and John Teasdale and documented in their book Mindfulness-Based Cognitive Therapy for Depression, this program combines the tools of cognitive therapy with the practice and clinical application of mindfulness meditation.
The heart of MBCT lies in acquainting patients with the modes of mind that often characterize depression while simultaneously inviting them to develop a new relationship to these modes. Using your personal mindfulness practice to inform your psychotherapy is a crucial part of this process.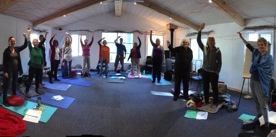 Who Should Attend Enrolment is open to healthcare professionals and social service workers who have a clinical background and a mindfulness meditation practice. Prerequisites for the intensive training include participation in an 8-week MBCT program, formal mindfulness training equivalent to MBCT Basics and CBT Primer, and a regular mindfulness meditation practice.
Apply Before Registering If you have not already been accepted into one of The Centre's Facilitation Certificate Programs, please apply here

Timing: 45 hours over five days
Fee: Varies based on retreat location and your choice of single or double accommodation (as a charity, we do not charge HST). Payment, cancellation and refund policies
What To Expect
This teacher training intensive will combine elements of a clinical training workshop and a meditation retreat. You can expect to spend some periods in silence and others in active discussion and interaction. The course will follow a concentrated schedule, starting at 6:30 am and ending at 8 pm each day. Registrants will not be provided with a detailed agenda beforehand; instead the schedule and time breakdown will be addressed at the opening session of the retreat.
Accreditation
This 3-credit-per-hour Group Learning program has been certified by the College of Family Physicians of Canada for up to 135 Mainpro+ credits.